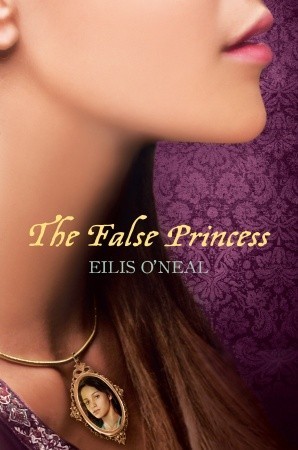 I really loved The False Princess by Eilis O'Neal. I think it's one of those books that never gets the attention it truly deserves. I'll be honest, this book sat in my "to-read list" on my Overdrive app for months. When a book doesn't have a hold list in the library, I always think that maybe it's not that great of a read. However, the premise sounded intriguing and when the rest of my holds weren't coming through (the joy of Toronto Public Library, sometimes you're #100 for a book that has less than 5 copies) I decided to check it out.
The official blurb is:
Princess and heir to the throne of Thorvaldor, Nalia's led a privileged life at court.  But everything changes when it's revealed, just after her sixteenth birthday, that she is a false princess, a stand-in for the real Nalia, who has been hidden away for her protection.  Cast out with little more than the clothes on her back, the girl now called Sinda must leave behind the city of Vivaskari, her best friend, Keirnan, and the only life she's ever known.
Sinda is sent to live with her only surviving relative, an aunt who is a dyer in a distant village. She is a cold, scornful woman with little patience for her newfound niece, and Sinda proves inept at even the simplest tasks.  But when Sinda discovers that magic runs through her veins – long-suppressed, dangerous magic that she must learn to control – she realizes that she can never learn to be a simple village girl.
Returning to Vivaskari for answers, Sinda finds her purpose as a wizard scribe, rediscovers the boy who saw her all along, and uncovers a secret that could change the course of Thorvaldor's history, forever.
A dazzling first novel, The False Princess is an engrossing fantasy full of mystery, action, and romance.
So after reading it, I don't have much criticism for this book at all. I've been reading a lot of YA
Paranormal lately and it was nice to dive into some light fantasy. What I loved the most was that it was 1 book. The YA genre has been plagued with drawn-out, money grabbing series that water down an already "meh" story line. (I'm looking at you House of Night) Most series coming out now are at least three novels that can easily be edited or condensed. The False Princess could have fallen into that trap, but it didn't.
Eilis O'Neal provided a well structured, well written single volume story. The plot was fairly straight forward and simple, but that enough twists and turns to keep me interested. The world building was decent, set in a magical re-imagining of the 1100s in a fictional kingdom. I liked the was magic was depicted. The main character Nalia/Sinda was believable. No Mary Sues here! She was determined to over come challenges and while she might have had her own interests in mind for some of the story, she ended up being successful. She really had a uphill battle after living in the lap of luxury for 16 years and she made it work for her. It was refreshing to read about a main character struggling with their powers and making due with what she had in order to save the day.  There was no insta-love between her and Keirnan, but a slow build up to a relationship years in the making.
This was Eilis O'Neal's first book and sadly her next book Charmed Deception isn't expected to be released until October 2015. The cover art seems to be similar to The False Princess and based on the blurb, it might be set in a comparable world. There isn't much detail available yet, but I can say without a doubt that I will be on the waiting list as soon as possible.