So I'm pretty sure it's no secret that I'm a huge Julie Kagawa fan. I found her through The Immortal Rules, and I've read every single book that she's authored since. I love her tone, her pacing, her style, her characters, her worlds … her, well, everything! Basically, I totally have an author crush on her. When Talon was released in October, I pounced on the waiting list and I finally got my hands on it this February.
Long ago, dragons were hunted to near extinction by the Order of St. George, a legendary society of dragon slayers. Hiding in human form and growing their numbers in secret, the dragons of Talon have become strong and cunning, and they're positioned to take over the world with humans none the wiser. Ember and Dante Hill are the only sister and brother known to dragonkind. Trained to infiltrate society, Ember wants to live the teen experience and enjoy a summer of freedom before taking her destined place in Talon. But destiny is a matter of perspective, and a rogue dragon will soon challenge everything Ember has been taught. As Ember struggles to accept her future, she and her brother are hunted by the Order of St. George. Soldier Garret Xavier Sebastian has a mission to seek and destroy all dragons, and Talon's newest recruits in particular. But he cannot kill unless he is certain he has found his prey: and nothing is certain about Ember Hill. Faced with Ember's bravery, confidence and all-too-human desires, Garret begins to question everything that the Order has ingrained in him: and what he might be willing to give up to find the truth about dragons.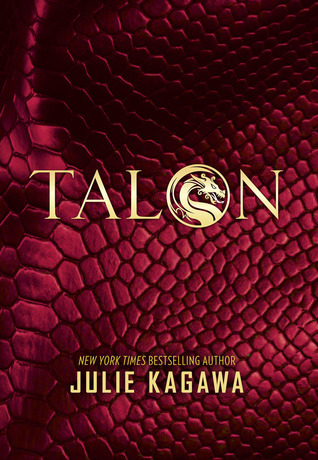 At 450 pages I believe this is the longest book that Kagawa has ever written. When I opened it, I had a miniature panic attack when I saw it was not divided into to chapters, but only parts 1 and 2. I'm a little bit OCD about chapters, they help me plan how much I'll read in a sitting, it bugs me if they're too short or too long, etc. Needless the say, I got over that pretty fast.
Talon is the first book I've read about dragons since high school. I have nothing against them, but they're not my favorite fantasy creature. If Kagawa hadn't written it, it might have never made it to my to-read list. Like a lot of the other Goodreads readers, I was expecting more action, more blood, more fire fights. This book was slower paced than Kagawa's other works. However, it is book 1 in a 5 book series, so I'm hoping Rouge (coming out this spring) will really pack a punch. The reason the plot might have seem slow or watered down was probably (and I bring this up all the time) the multi-book money grab.
The premise of this book was intriguing, dragons infiltrating our society, disguised as humans and St.George soldiers trying to kill them. It's a never ending circle of blind hatred, a theme that can be easily understood in the world we live in today. Talon set the stage for the series, giving us some background on both sides, teased us a bit and then left a lot of questions unanswered. The ending was a total cliff-hanger, its was far too abrupt in my opinion.
Our main character, Ember is a fairly standard YA heroine, mixed up in a fairly standard YA love triangle. Two hot guys want her, both she shouldn't fall for, both for very different reasons. Kagawa writes great bad-boy love interests, I don't know if I would be able to pick between Garret or Riley either! The book switched first-person perspectives between these three, and I'm really starting to wonder what YA authors have against 3rd person narratives?! (BTW, I googled this and found some answers.) I find the switching of perspectives somewhat distracting, especially when its half way through a scene, but I also understand the benefits of connecting with all of the characters.
My only other complaint with this book is the cover. Because the little dragon in the circle reminds me of Mortal Combat. The covers for the Iron Fey and the Blood of Eden series were so pretty, this one was just ok. Rouge (the 2nd book in the series) follows the same theme, so I'll be interested in seeing where it goes. In conclusion, this book definitely was slower than Kagawa's other series. I didn't love it as much as I did the others, but the ending was enough to keep me interested.
PS – Julie Kagawa also hand sculpts adorable little dragons and sells them on Etsy. https://www.etsy.com/ca/shop/KagawaCrafts