Since December, I've been trying to fill the void left by Lauren Oliver's Delirium Series. I've been searching for a YA Dystopia that's not only believable but also well written and utterly consuming. That search led me to Perfect Ruin.
Lauren DeStefano is best known for her Chemical Garden series, but due to the mixed reviews I hadn't read it… yet. After being blown away by Perfect Ruin, that might change. The premise of Perfect Ruin intrigued me, so I completely ignored the long list of gif-laden reviews on Goodreads, and dived right in. I'm so glad I did.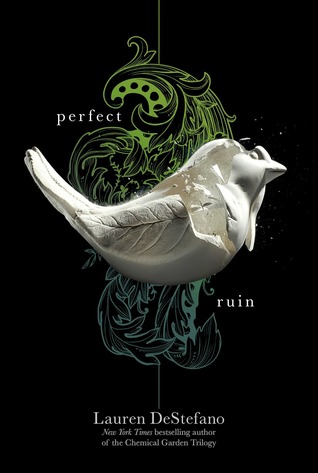 Perfect Ruin
by Lauren DeStefano
Release Date: March 2013
Add to Goodreads
Buy on Amazon
Summary from Goodreads:
On the floating city of Internment, you can be anything you dream, unless you approach the edge. Morgan Stockhour knows getting too close can lead to madness, like her older brother Lex, a Jumper. She takes solace in her best friend Pen, and in Basil, the boy she's engaged to marry. When she investigates the first murder in a generation, she meets Judas. The suspect was betrothed to the victim, but Morgan believes he is innocent. Nothing can prepare Morgan for the secrets she will find – or whom she will lose.
Perfect Ruin started slow, but around the 50% mark, it took off like a rocket. The first half of the book was used to build the world and increase suspense.
I enjoyed the pacing, because I had time to get to know the characters. Morgan is a believable heroine who unknowingly gets caught up in a revolution with her friends and family. Mogan and Basil had a realistic relationship and I liked that they really loved each other despite being betrothed. In contrast, Pen and Thomas contrasted by not being the perfect couple, but sticking together because it was their duty. (Even though I think Pen has more feelings for him that she admits.) Lex was by far my favorite character and there are so many unanswered questions about him. I respect Alice's character fore enduring such hardships and making sacrifices for the family and I corrected with her deeply.
I'll admit, based on the premise, I was expecting a fantastical world like in Castle in the Sky. I should have known better, with it being a YA Dystopian themed novel, that it would be darker than that. (Please, note that I'm still going to include a Castle in the Sky gif, just for fun.) Anyways, the world building in this series is some of the best I've seen in a while. The author gives us the information we need in the narrative and avoids annoying info-dump sessions.
I am a cover-judger, as you all know. AND I LOVE THESE COVERS. The original 2013 covers were ok, but I prefer how the broken porcelain ties the series together. I love when a series has cohesive covers because they look better on my shelf that way.
Perfect Ruin is a 3-part series (surprise) called the Internment Chronicles. Book 2, Burning Kingdoms was released in March 2015 and I'm on the waiting list for it. There was also a 1.5 novella released in 2014, titled No Intention of Dying. It revolved around Daphne, but I was hesitant to read it, being let down by so many "point five" releases before. When I found out it was only 15 pages, I figured what the heck, may as well. After the fact, I could take it or leave it as it didn't really add much to the story besides some back info about Daphne and her betrothed.
All in all, a great book and a very interesting series. The cliff hanger left me on the edge of my seat and I hope more is revealed about Lex in book two.