To be brutally honest, when I read Red Rising last year, I liked it. 50% into Golden Son, I was seriously going down the meh slope. Upon finishing Golden Son, my emotions were on a roller coaster and became impossible to explain in words or animated gifs. I have never read a book that can be so uplifting and heartbreaking all at the same time.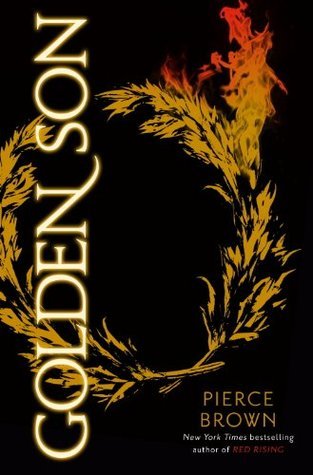 Golden Son (Red Rising Trilogy #2)
by Pierce Brown
Release Date: January 2015
Add to Goodreads
Buy on Amazon
Summary from Goodreads:
With shades of The Hunger Games, Ender's Game, and Game of Thrones, debut author Pierce Brown's genre-defying epic Red Rising hit the ground running and wasted no time becoming a sensation.
Golden Son continues the stunning saga of Darrow, a rebel forged by tragedy, battling to lead his oppressed people to freedom from the overlords of a brutal elitist future built on lies. Now fully embedded among the Gold ruling class, Darrow continues his work to bring down Society from within. A life-or-death tale of vengeance with an unforgettable hero at its heart,Golden Son guarantees Pierce Brown's continuing status as one of fiction's most exciting new voices.
First off, I just want to say how much I hate that this book is often compared to The Hunger Games. The Hunger Games trilogy isn't even in the same league as Red Rising. Breathe in, breathe out. Now put your pitchforks away so I can continue.
If your heart beats like a drum,
and your leg's a little wet,
it's 'cause the Reaper's come
to collect a little debt.
I read Red Rising back in the fall of 2015. And while I liked it, it didn't consume me like Golden Son did. That's why I wasn't in a hurry to read it. When I finally got around to Golden son, it had been several months since reading the first book and it took my a while to get back in the groove. After finishing Golden Son, I really want to go back and read them together in case I missed anything.
What do I love about this series? I love the world building. I love the history. I love the culture. I love the resistance. I love Darrow. I love Jackal. I love Mustang. I love Sevro. I love the Howlers. I love Ares. I love the action. I love the struggles. I love the hate. I love the loyalty. I love the betrayals. I love the love. I love literally everything about it.
Because of this, it makes it really hard to write a review that isn't just a list of the things I loved and try to keep it spoiler free.
Ultimately, I think what really makes this a bloodydamn good series is that every single part has been carefully thought out. All aspects of the culture, down to the swearwords is consistent. The nods to our time period are amusing and insightful. The cast system is well defined and essential to the plot line, not just an afterthought. Darrow's narration is pretty amazing, because it includes lots of information without seeming like a dump. Everything just flows together perfectly and I wish I could visit this world.
When it comes to Darrow, I appreciate how raw his emotions are. A lot of dystopian/sci-fi/etc. heroes miss the mark on this point. Darrow is a real person with real emotions. Heck, he was just a teen when his world turned upside down and he was thrust into this revolution. It only makes sense that he's confused or moody sometimes. But when it comes down to it, he knows what his duty is and he (and the Howlers) kicks some serious butt!
I'm torn with the Team Darrow vs Team Sevro. I really love Sevro (and all the plot twists he's involved in). I love him because in this crazy world, I know he's the only one that Darrow can count on. He's spunky, wicked and fiercely loyal. He reminds me a lot of one of my close friends. So much of why I love him is riddled with huge spoilers, so I'll just leave it at that.
Also need to give a shout out to the designed, cohesive covers. They will look beautiful all in a row on my book shelf.
That ending though. (Don't worry, I promised no spoilers) That ending will kill you like it killed me. Morning Star isn't out until January of 2016, which is sooner than the Spring 2016 date that was first announced. It can't come soon enough.