In my review of Talon, I definitely came off as indifferent about this series. I enjoyed it enough to want to read Rogue, but I wasn't in a hurry. However, Rogue surpassed my expectations. I found myself saying "YES! This is the Kagawa I remember!"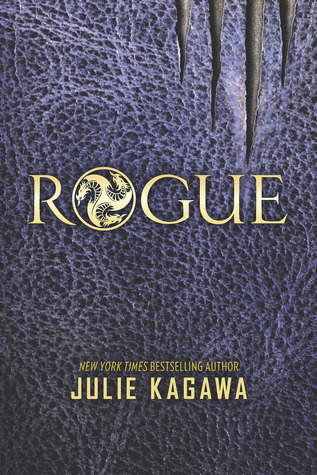 Rogue
by Julie Kagawa
Release Date: April 2015
Add to Goodreads
Buy From Amazon
Summary from Goodreads:
Ember Hill left the dragon organization Talon to take her chances with rebel dragon Cobalt and his crew of rogues. But Ember can't forget the sacrifice made for her by the human boy who could have killed her—Garret Xavier Sebastian, a soldier of the dragon-slaying Order of St. George, the boy who saved her from a Talon assassin, knowing that by doing so, he'd signed his own death warrant.
Determined to save Garret from execution, Ember must convince Cobalt to help her break into the Order's headquarters. With assassins after them and Ember's own brother helping Talon with the hunt, the rogues find an unexpected ally in Garret and a new perspective on the underground battle between Talon and St. George.
A reckoning is brewing and the secrets hidden by both sides are shocking and deadly. Soon Ember must decide: Should she retreat to fight another day…or start an all-out war?
The premise of this series is as follows: dragons infiltrate our society, disguised as humans and St.George soldiers are trying to kill them. It's a never ending circle of blind hatred, a theme that can be easily understood in the world we live in today.
Rogue is told from rotating points of view: Ember, Garret, Riley/Cobalt and Dante. The narrative merry-go-round was manageable. I think the Talon series could have easily been told in 3rd person, but the 1st person gives more insights into what the characters are thinking (or not-thinking) as it were. It keeps the surprises coming.
I really really hope that Ember gets her stuff together in book 3. She needs to stop thinking about her brother and help Garret with his objective of saving the hatchlings. I think they could really be a kick-butt team if she stopped getting them into compromising situations.
The love triangle was still very … standard-ya-love-triangle-ly. That's really all I have to say about it. Ember is caught up between two boys, one that represents/speaks to her dragon side, and the other to her human side. Pretty sure she'll end up with Garret in the end, because love conquers all right? … We'll have to wait till book 5 for that though.
THAT ENDING THO. – Ugh such another awesome cliff hanger! I won't say any more but …. GEEZ I want to. D:
Ok, ok I know I complained about the covers in my review of Talon, BUT they've grown on me. I've started to appreciate the simplicity and how nice they look in a row on my shelf. Cohesive covers is very important to me (because I pretty much just use books to decorate my house.)
The third installment of the Talon Series isn't going to be released until Fall of 2016. Titled Soldier, I'm assuming its going to concentrate more on Garret than the dragons, but we'll see. I wish we didn't have to wait so long, but Julie Kagawa probably needs a break from writing dragons to finish up her Iron Fey series, which hasn't had a release since 2013. Seriously, this woman is a writing power house! I'll be looking forward to whatever comes from her – dragons, fae, vampires … who knows what's will be next?
PS – Julie Kagawa also hand sculpts adorable little dragons and sells them on Etsy. https://www.etsy.com/ca/shop/KagawaCrafts