Do you guys remember when I hosted a cover reveal for The Body Institute by Carol Riggs back in March? Well I was lucky enough to get my hands on an advanced copy to read and review!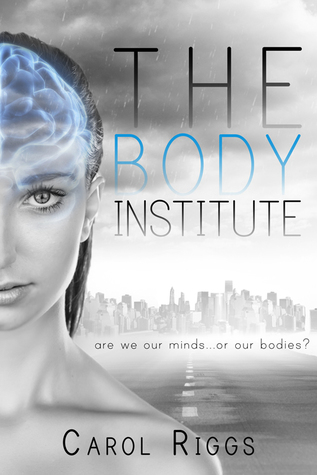 The Body Institute
by Carol Riggs
Release Date: September 2015
Add to Goodreads
Buy From Amazon
Summary from Goodreads:
Meet Morgan Dey, one of the top teen Reducers at The Body Institute.
Thanks to cutting-edge technology, Morgan can temporarily take over another girl's body, get her in shape, and then return to her own body—leaving her client slimmer, more toned, and feeling great. Only there are a few catches…
For one, Morgan won't remember what happens in her "Loaner" body. Once she's done, she won't recall walks with her new friend Matt, conversations with the super-cute Reducer she's been text-flirting with, or the uneasy feeling she has that the director of The Body Institute is hiding something. Still, it's all worth it in the name of science. Until the glitches start…
Suddenly, residual memories from her Loaner are cropping up in Morgan's mind. She's feeling less like herself and more like someone else. And when protests from an anti–Body Institute organization threaten her safety, she'll have to decide if being a Reducer is worth the cost of her body and soul…
I was originally interested in the book because I thought it would be tackling issues like body shaming and discrimination, but that wasn't really the case. There were a few moments hidden in between health lectures, but they seemed few and far between. I might have just been too sensitive about it, because of my own personal history – and I'll admit there were parts in the beginning that were triggering to me and I had to put the book down. Therefore, I would recommend anyone living with an eating disorder or body-dismorphia to read with caution.
However, for all the personal challenges I had while reading this book, I've very glad I did. There is no doubt that Carol Riggs is an excellent writer and keeps the reader guessing. I'm normally that person that has everything figured out – not with The Body Institute! The story was slow (but engaging) until the 50% mark and just when I thought I knew what was going to happen I got hit with twist after twist. I read the last half of the book in a day because I just couldn't put it down!
I like the world building, it was easy to imagine and the technology seemed plausible in the next 100 years or so. I don't know much about tech or biology but to me, the tech described for switching minds didn't seem all that impossible. That's what marks a good sci-fi for me – books with tech that is realistic is way more unnerving that fantasy lands.
I love Morgan for her resliance and her detication to her family. She was a heroine that I could really get behind and not be annoyed by the 1st person perspective. After all she went though, and still carrying herself with pride really inspired me. The other characters were all great in their way, and the cast supported a very well thought out plot.
My favourite character was Morgans grandfather. I felt like I connected with him better because he was not a native of this intense technology, just as I would be if it were developed in my life time. I think his family (even Morgan in the beginning) writes him off as a grumpy old man, but he is very wise. There was something that he said that seems to be a cornerstone of the theme of this book, which I will leave here for everyone:
"Your looks are an important part of who you are. You wouldn't be who you are, the same personality, if you'd grown up looking different. You're a blend of your body and your soul."
*disclaimer* – I received a free copy of this book in exchange for a honest review.